Service
Price
Time
Eyebrow Waxing
$15
15 minutes
Eyebrow Waxing + Tint
$30
30 minutes
Lip Waxing
$7
15 minutes
Chin Waxing
$10
15 minutes
Full Face Waxing
(eyebrows, lip, jawline, cheeks)
$50
30 minutes
Service
Price
Time
Basic Bikini Waxing
$30
30 minutes
Extended Bikini Waxing
$50
30 minutes
Brazilian Waxing
$70
45 minutes
Brazilian Maintenance
(Must be booked within 4-6 weeks)
$50
30 minutes
Underarm Waxing
$25
15 minutes
Half Arm Waxing
$30
30 minutes
Full Arm Waxing
$40
45 minutes
Half Leg Waxing
$45
30 minutes
Full Leg Waxing
$70
60 minutes
Chest Waxing
$50
45 minutes
Back Waxing
$50
45 minutes
Pre & Post Waxing Care
Before your appointment
Come in with clean skin, free of any lotions.
No tanning (or spray tanning) 24 hours before.
Do not use Retin-A, Glycolics, or chemical peels for 5-7 days before your waxing appointment.
Do not use Accutane for at least 28 days before treatment.
Hair should be around 1/8" to 1/4" in length by the time of your appointment.
Aftercare
No tanning and avoid sun exposure.
Avoid high temperatures for 24 hours. (Saunas, steam rooms, hot yoga, or working out). Sweat harbors bacteria.
Showers are okay but avoid submersion in water. (Lakes, pools, hot tubs, bath).
Exfoliate & moisturize regularly.
You may use a cool compress or take an anti-histamine to calm any irritation of the skin.
Waxing FAQ
How long does hair have to be to be waxed?
Hair needs to be at least 1/4″ to 1/2″ long; if it is too short, the wax won't grab the hair.
Will my hair grow back thicker?
Nope! Actually. over time, hair will grow back finer and softer with waxing.
Do you offer waxing services for men?
Yes, aside from bikini areas.
What is the difference between bikini, extended bikini and a brazilian wax?
Bikini: removes hair extending outside the panty line.
Extended bikini: removes hair extending outside the panty line, and further inside the panty line leaving a thin strip of hair.
Brazilian: removes all hair front and back (some women choose to leave a small strip on the front).
Can I get waxed if I'm on my period?
Yes. However, while on your period (and just before)- sensitivity is increased, so if you have a lower pain tolerance I recommend waiting until afterwards.
How often should I book my waxing appointments?
You should expect to be smooth and hair free for at least 1-2 weeks and hair will be long enough to wax again in about 4-6 weeks.  Brazilians have separate pricing if they are booked within the maintenance time period of 4-6 weeks.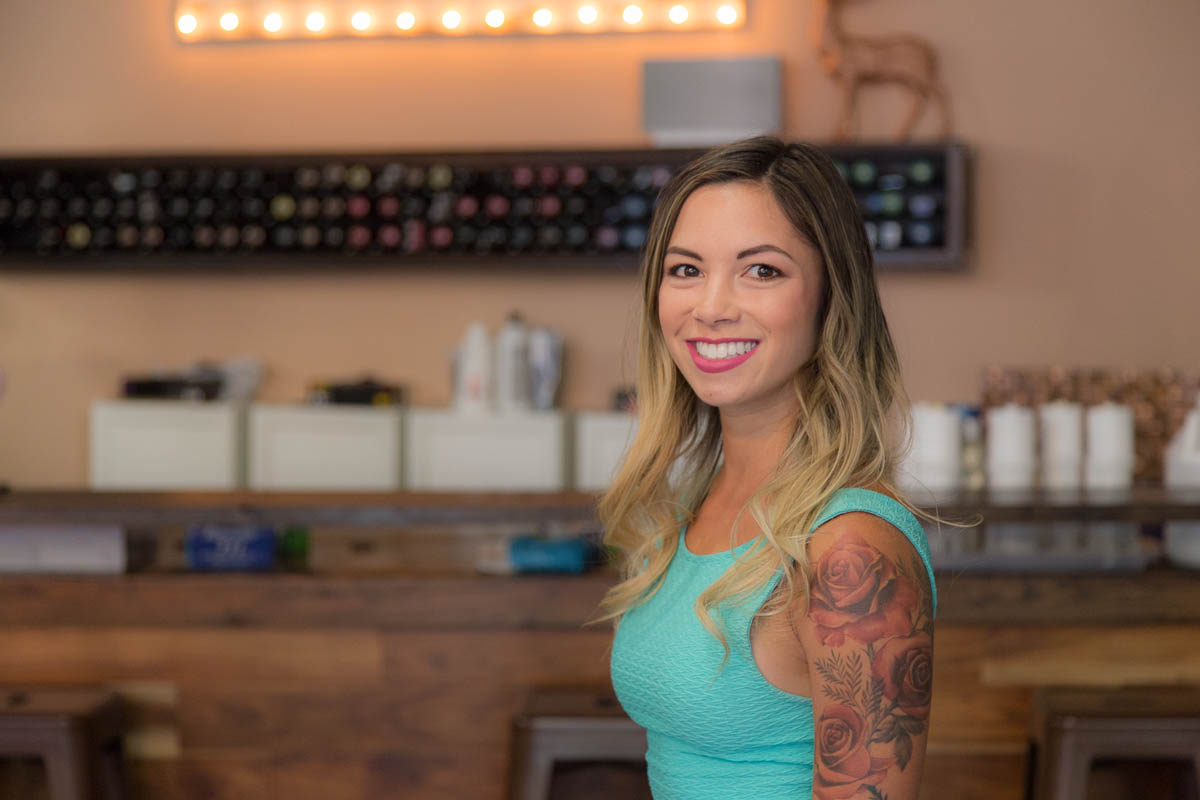 Jessica Gillette
Tacoma Waxing Specialist
Jessica Gillette is a licensed esthetician at London's on the Ave. She has been in the beauty industry for more than six years, and has recently taken the leap to open her own business within London's. When she is not at her salon making her clients beautiful, she is gardening with her puppy, Kiwi, practicing calligraphy, or in the kitchen cooking something delicious.
Hours
Monday: Closed
Tuesday: 10am-6pm
Wednesday: 10am-6pm
Thursday: 10am-6pm
Friday: 10am-6pm
Saturday: 10am-6pm
Sunday: Closed
Location
London's Salon (on the ave)
1908 Pacific Ave, Tacoma, WA 98402
(253) 370-9359
London's on the Ave
1908 Pacific Ave, Tacoma, WA 98402